Dianoxyl 10

for Sale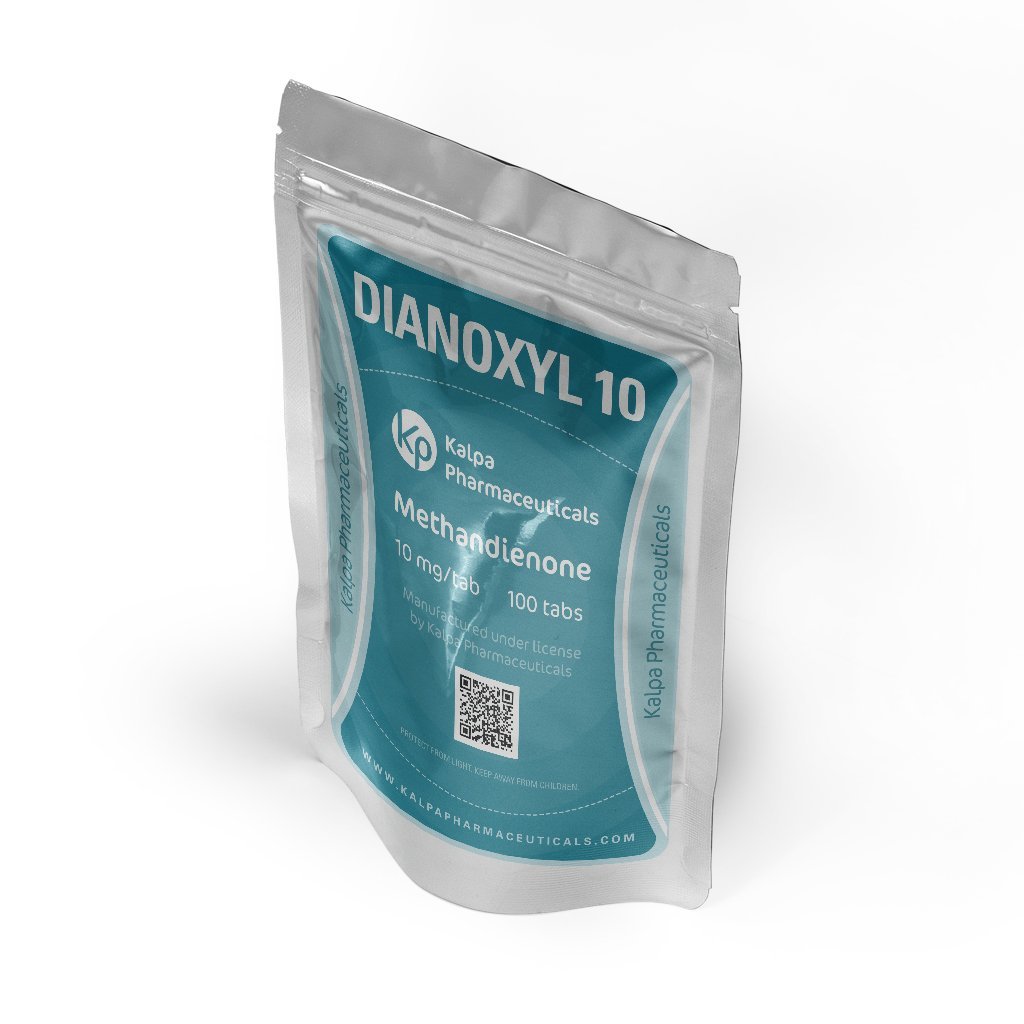 Manufacturer: Kalpa Pharmaceuticals LTD, India
Drug Class: Androgen; Anabolic Steroid
Active Substance: Methandienone 10mg
Active Life: 3.2-4.5 Hours
Average Dose: 20 mg/day
Liver Toxicity: Yes
Aromatization Rate: High
Anabolic Rate: 200%
Androgenic Rate: 50%
Trade Name: Dianabol
This Price Is Per 100 Tablets
Real Dianoxyl 10 Made by Kalpa Pharmaceuticals
Dianoxyl 10 is a steroid with a pronounced anabolic effect and contains 10 mg of Methandienone, which is used by many athletes and bodybuilders. Particular popularity this drug acquired in bodybuilding and weightlifting. Dianoxyl is also known under other trade names: Dianabol, DBOL, Naposim.
The History of Dianoxyl 10
For the first time Dianoxyl 10 was manufactured by Kalpa Pharmaceuticals and released in 1994. Initially, this drug was intended for the correction of protein metabolism in the treatment of endocrine disorders, cachexia, nephropathy, extensive burns.
The most widely used, soon after Dianoxyl 10 was released, in sports due to its ability to stimulate muscle growth and increase overall endurance.
To date, its use is very common in bodybuilding. To obtain the effect declared by the manufacturer, before you buy Dianoxyl 10 in an online store, you should make sure of the originality of the drug.
Dianoxyl 10 Effects
The basis of the pharmacological action of this drug is the stimulation of anabolic processes in the body. As a standard representative of the class of anabolic steroids, it acts on the cell nucleus, increasing the synthesis of protein molecules and ATP. The result of this are:
muscle gain;
positive nitrogen balance;
reduction of fat deposits.
With a supportive protein diet and appropriate physical exertion, this drug helps to increase muscle volume, achieve the desired shape and high athletic performance. There is also an effect on calcium metabolism in the body, resulting in strengthened bone tissue. In addition to the anabolic action, Dianoxyl 10 has a moderate androgenic effect - enhancing the development of secondary sexual characteristics of the male type.
Dianoxyl 10: Usage, Dosage and Side Effects
The daily dose of Dianoxyl 10 is 30 mg - divided into 3 doses. The action of Dianoxyl 10 is limited in time (about 5-6 hours), and in order to minimize the effect of the drug on natural testosterone production, it is necessary to drink the first dose early in the morning, the last - no later than 6 pm. Tablets are taken after meals. Dianoxyl 10 cycle lasts up to 6 weeks. This steroid administration is not recommended for people under 18 years of age, as well as for those suffering from arterial hypertension, pathologies of the liver or prostate gland.
This steroid is used not only solo, but also in various combinations with other drugs of this group - testosterone, nandrolone, oxymetholone and others.
Choose and order Dianoxyl 10 tablets in our online store. We sell only original certified Kalpa Pharmaceuticals products and provide fast delivery.
References
Dianoxyl 10 Lab Test Results
Dianoxyl 10 Reviews
Mar 1, 2021 (05:45)

dBol is just as expected, good solid pump from 30mg a day ran for just 20 days.

Jul 1, 2019 (12:30) The quality of the Dianoxyl was as good as usual.

The Dianoxyl was used by myself for roughly 6 weeks, each day I was using 40mg. The pump I had with this was crazy, very good clean product
May 13, 2019 (12:50) I used the dbol for 2 weeks started low 10mg n bumped to 30 but found 20mg to be my sweet spot didn't need to go any higher in fact with 10mg I felt great n the pumps were amazing helped deliver a boost in euphoria n strength muscles would feel gorged n pumped quickly n my stamina didn't suffer

Great product n good t/a I would definitely continue to try their other selections
Apr 2, 2019 (08:55)

Dbol has been very promising, I'm on week 3 at 50mgs daily going for another week and calling it good. DBOL right now has given me some nice strength in the gym, plates are going up in weights, heavier sets as I'm bulking now earlier into the late spring season. I do feel more bloated than usual but of course I'm on Dbol, it's common.
Buy Dianoxyl 10 Similar Offers