Sustaxyl 350

for Sale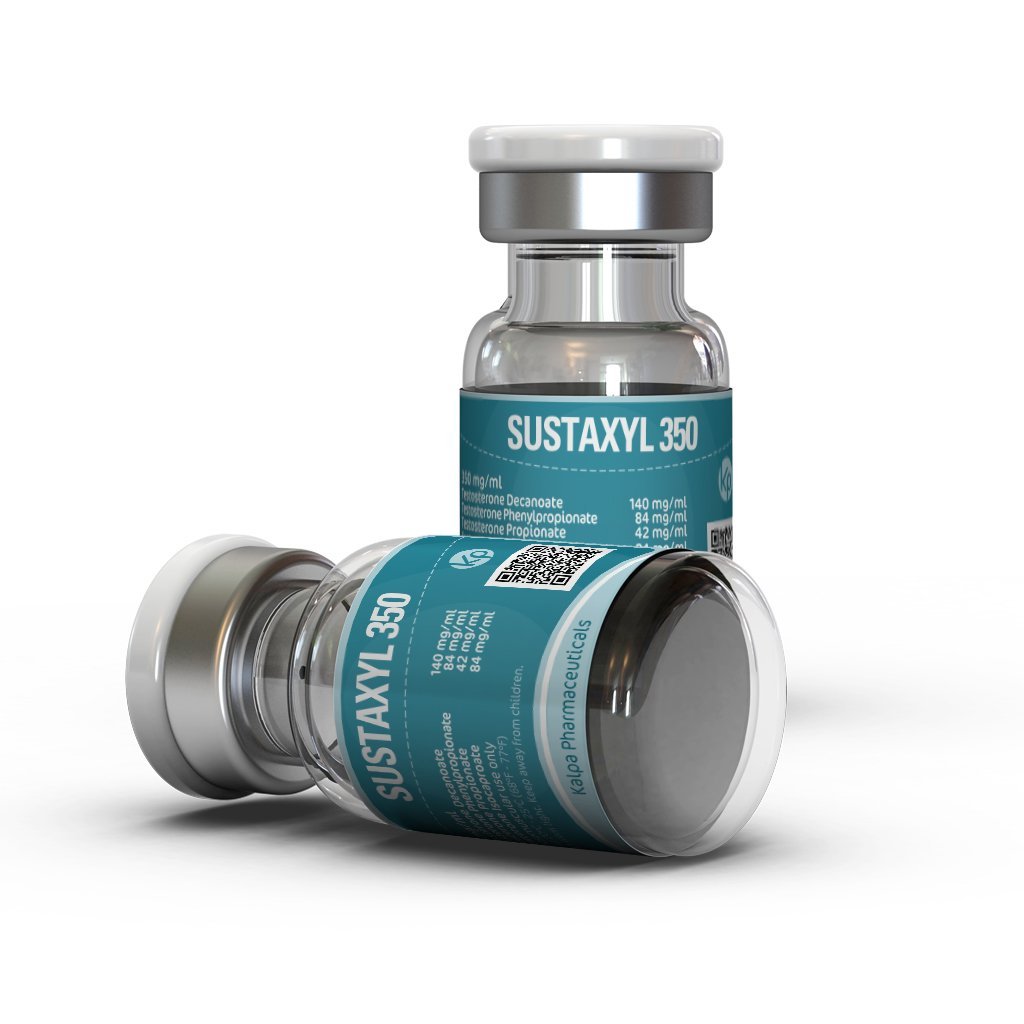 Manufacturer: Kalpa Pharmaceuticals LTD, India
Drug Class: Androgen; Anabolic Steroid; Androgen Ester
Active Substances:
- Testosterone Propionate 42mg
- Testosterone Isocaproate 84mg
- Testosterone Phenylropionate 84mg
- Testosterone Decanoate 140mg
Mixed Dosage: 350 mg
Active Life: 7-8 Days
Average Dose: 250 mg/week
Liver Toxicity: No
Aromatization Rate: Yes
Anabolic Rate: 100%
Androgenic Rate: 100%
This Price Is Per 1 Vial (10 mL Each)
Bulk Sustaxyl 350 Price
| Amount | Bulk Price | Saving per Unit | Total Bulk Price | Total Savings | Action |
| --- | --- | --- | --- | --- | --- |
| 5+ | 69.35 USD | -3.65 USD | 346.75 USD | 18.25 USD | |
| 10+ | 65.70 USD | -7.30 USD | 657.00 USD | 73.00 USD | |
| 20+ | 62.05 USD | -10.95 USD | 1241.00 USD | 219.00 USD | |
Real Sustaxyl 350 Made by Kalpa Pharmaceuticals
Sustaxyl is a powerful androgenic steroid usually combined and composed of four testosterones:
propionate;
phenylpropionate;
isocaproate;
decanoate.
This mix offers a variety of benefits. These are based on a well timed composition and have a synergetic effect. This special feature has two positive characteristics for athletes. First, as a result of the combination of these compounds, Sustaxyl has a better effect than enathate, cypionate, and propionate alone.
Second, the effect of the four testosterones is time released so that sustanon goes rapidly into the system and remains active in the body for several weeks.
The propionate in the mixture has a rapid effect and takes hold after only one day.
The decaonate remains active for 3-4 weeks.
So you can see that sustanon has a good combination of short and long term effectiveness.
Sustaxyl 350 has both a distinct androgenic and anabolic effect, therefore it is well suited to the build up of both strength and mass.
The quality of gains is further appreciated since Sustaxyl aromatizes (produces water in the muscle) less than enanthate or cypionate.
Sustaxyl also has the distinct advantage of working well in athletes who have previously used the substance.
Sustaxyl is one of the top three body building steroids along side Nandroxyl and Dianoxyl.
These three compounds can be combined together to form a "steroid stack".
If you want size fast then use testosterone ; it is a giant among steroids.
Dosage
2 mL of Sustaxyl a week when stacked with Dianoxyl will give excellent results.
Sustaxyl 350 Reviews
Apr 24, 2019 (14:04)

Once the product arrived I added it to my current cycle which was 100mg Test Prop every other day from another supplier. I wanted to increase my test dosage so I would do 350mg of sus and 50mg of prop every other day. I noticed within a weak that my libido was going crazy through the roof. I had constant boners that almost became problematic lol. But overall this stuff is great. It's thin clear and smooth pinning without too much pip. My skin became oilier and I had that alpha male aggression. Recovery time increased from gym sessions and I could tell this product definitely added the boost I needed.

Mar 4, 2019 (05:29)

1.3ml per week you dont feel toouch pip bit I have access to Lidocaine 5% patches hehe so those help with any pip. My arms feel strong and after 2 weeks it was noticeable, some acne LARGE pumps that almost hurt (thank God for muscle relaxers) new veins came in, my nurse had to run down to the er to get a LEG CUFF to take my blood pressure with because the others wouldn't fit lol. Noticing some fat loss so all in all pretty happy thus far!

Mar 27, 2017 (18:27)

Super!)

Mar 18, 2017 (16:31)

我要
Buy Sustaxyl 350 Similar Offers