Testoxyl Enanthate 250

for Sale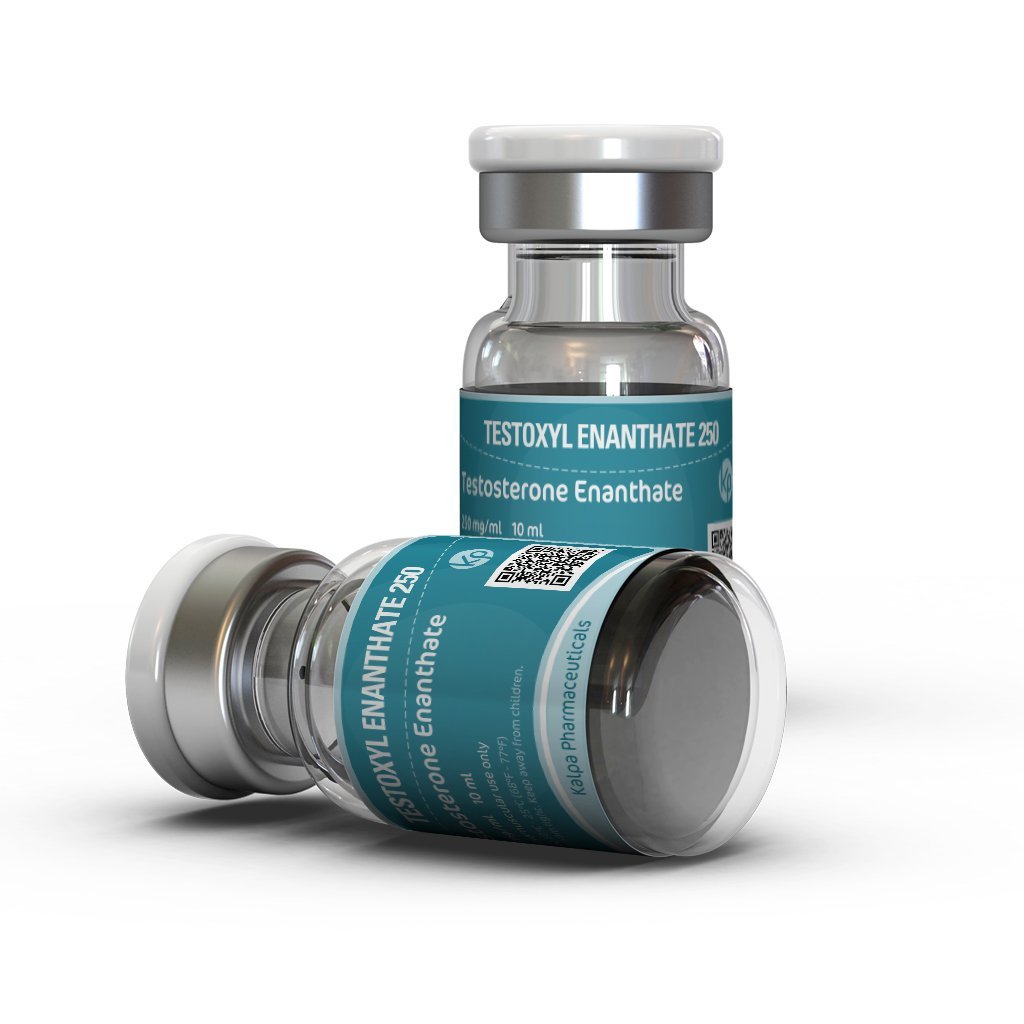 Manufacturer: Kalpa Pharmaceuticals LTD, India
Drug Class: Androgen; Anabolic Steroid; Androgen Ester
Active Substance: Testosterone Enanthate 250mg
Active Life: 15-16 Days
Average Dose: 50-200 mg/week
Liver Toxicity: No
Aromatization Rate: Yes
Anabolic Rate: 100%
Androgenic Rate: 100%
This Price Is Per 1 Vial (10 mL Each)
Bulk Testoxyl Enanthate 250 Price
| Amount | Bulk Price | Saving per Unit | Total Bulk Price | Total Savings | Action |
| --- | --- | --- | --- | --- | --- |
| 5+ | 44.65 USD | -2.35 USD | 223.25 USD | 11.75 USD | |
| 10+ | 42.30 USD | -4.70 USD | 423.00 USD | 47.00 USD | |
| 20+ | 39.95 USD | -7.05 USD | 799.00 USD | 141.00 USD | |
Real Testoxyl Enanthate 250 Made by Kalpa Pharmaceuticals
Testoxyl enanthate is one of the most popular synthetic testosterone steroids used by athletes. The steroid is manufactured by Kalpa Pharmaceuticals using a testosterone derivative, and the chemicals mimic the natural testosterone hormone found in the body. Testoxyl enanthate has both anabolic and androgenic qualities. Its anabolic properties help build muscle mass, making testoxyl enanthate a popular choice for athletes who want to bulk up. Its androgenic properties stimulate masculine primary and secondary sex characteristics.
Effects
Testoxyl enanthate works by stimulating the body's muscle cells to grow protein, and the increased proteins promote cell growth in the muscle. As the cells continue to grow on top of each other in the muscle, the size and strength of the muscle increase. Testoxyl enanthate also increases the number of oxygen-rich red blood cells carried by the bloodstream into muscles and organs, making the body work more efficiently and increasing endurance.
Longevity
Testoxyl enanthate is a slow-acting steroid, meaning it is released slowly into the bloodstream, and it remains in the body for about 8 days. This is good for athletes and body builders who want to bulk up because the steroid levels remain steady for long periods of time; this keeps the cycle of protein release and muscle mass increase ongoing. Another advantage of a slowly released steroid is that the injections are done less frequently than with short steroids. However, as with all long-lasting testosterone derived steroids, water retention is often a problem for users of testoxyl enanthate.
Injecting
Testoxyl enanthate is injected into the body via a needle and syringe.  Users usually inject the steroid deeply into muscular tissue because it is a less painful option than most other injection sites. Injecting it directly into the muscle also increases the rate at which the steroid is absorbed into the bloodstream. The most common injection sites for testoxyl enanthate are the gluteus, the quadriceps, the deltoids, and the biceps.
Cycling and Stacking
Testoxyl enanthate is typically cycled for about 10 weeks. The possible side effects of using testoxyl enanthate are significant due to the aromatization process it undergoes. In aromatization, the steroid is converted to estrogen, the female sex hormone, once in the body. This can cause males to gain fat or exhibit other female secondary sex characteristics. Because of these effects, post cycle therapy is crucial in order to speed up the body's resumed production of testosterone, and to return overall body chemistry to normal. After post cycle therapy and a period of nonuse equal to the cycling period, many users will begin another cycle. Testoxyl enanthate is a powerful steroid on its own, but many users will stack it with other anabolic steroids to enhance its benefits.
Buy Testoxyl Enanthate online, quality and fast delivery guaranteed!
Testoxyl Enanthate 250 Reviews
May 17, 2019 (11:04)

Acne weight gain and strength gains in the first couple weeks. Ive used many brands of test E before and this is right on par with the better ones. No PIP and very smooth.

May 8, 2019 (11:11)

Really good stuff. I use test E for trt at 120mg every 7 days. The oil used is vey clear and there is no need to warm it up as it flows through a 27G pin with nooo problem at all. There is a small bit of pip but you can't have it all and it certainly isn't a complaint. Wonderful sense of well being , good quality stuff. I can recommend Kalpa's Test E and would be happy to try anything else from them

Apr 18, 2019 (09:35)

Test e iv just transitioned recently from prop so abit early to review on this myself but have had a few friends use this and having great success so far and gaining good size and suffering some gyno sides from it so i can defo tell its good to go.

Apr 5, 2019 (10:40)

I was cruising on another sources test e...soon as I switched to his test e...I felt like I had gone on cycle...instant aggression...irritability...oily skin. Haha...I actually had to lower my cruise to half of what it was previously just so I could keep it at a level cruise.

Apr 2, 2019 (08:54)

Been using Test E for 6 weeks now and the Test E has been hitting me really well at week 4 at 300mgs twice a week. I have noticed no pip, very smooth with some oily skin, not much acne as I am prone to it but I have been using Masteroxyl Enanthate at 200mgs a week and it's helping control it. My libido has really improved, I feel alive and focused mentally, my mood swings are minimal now with Test E.

Mar 25, 2019 (08:35)

I ran it for 12 weeks @ 500mg/week. Felt great and seemed well dosed. My sex drive went up suddenly by week 3. There no lumps at all. Strength increased through the roof and recovery was awesome. Not only my lifts were getting higher, made me feel like superman

Mar 11, 2019 (05:57)

Didn't really have enough to get a good idea of TRUE quality from only 1 bottle. But from that one bottle it seemed to be gtg. Had a little pip but nothing crazy. Ran it at 1000mg a week. Kalpa seems to be good to go in my opinion. Would order from again.

Mar 31, 2017 (00:38)

When will this be in stock again? Its been out for months

Mar 22, 2017 (15:45)

I want to buy
Buy Testoxyl Enanthate 250 Similar Offers